A Long, Long Time Ago, I Can Still Remember…..
I can still remember my first day at my first corporate job. It was a lifetime ago. I was very excited. I had a new outfit, a new haircut, and I showed up 15 minutes early to the corporate orientation. I was ready to get started.
My Priorities as a New Hire
These are the questions I wanted answered: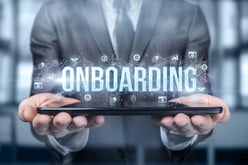 What was my job REALLY going to be? Day to day, week to week, what were my responsibilities?
How could I integrate into my team, and prove I would add value?
What didn't I know? What did I need to learn?
Is there anyone to help me? Or was I on my own?
New Hire Orientation – What Happened
The orientation left a strong impression on me. Even after (ahem) 25 years, I can visualize speakers and their presentation materials.
You would think that meant the session was impactful, engaging, and important to my work.
You'd be wrong.
The orientation was four hours long-in a seminar room with at least 50 people, none of which were headed to the same department as I was.
There was a long lecture on the history of insurance, and the history of the company-including the architecture of the Home Office. They were very proud of that building. I didn't work at the Home Office.
There was an explanation of the benefits available. They compared many different available health care options. It may have been as many as eight. I was not eligible for health care until I had worked there for 60 days.
The dress code discussion was a big deal. I remember that, if I chose to wear a skirt, pantyhose would be required. Also, advice was given to the gentleman in the room that they could choose to wear long ties or bow ties, but it was strongly recommended that they pick one or the other.
I filled out forms having to do with automatic deposits of paychecks and was given an employee handbook. I had 10 minutes to review the handbook and sign the back page indicating I would comply with company policies. That booklet had to be 50 pages long-there is no way I read the entire thing.
They wrapped up with a tour of the building – ending with the cafeteria, sending the 50 of us off to have lunch. I think there were sandwich vouchers.
I had so much energy. I wanted to learn about my job. I wanted to meet my coworkers and impress upon them that I was going to be a valuable member of their team. Why did that company use that first four hours to essentially have me fill out paperwork?
When I finally found my desk, I was exhausted. Did this represent my work life? What a wasted opportunity for strong employee engagement.
The Company's Priorities for New Hire Orientation
The activities included in this orientation were obviously deemed IMPORTANT, but they weren't necessarily important on Day 1. I do understand the impetus behind the program design. The human resources organization had limited access to new hires after they actually began working. The "paperwork" surrounding finances, policy, and benefits needed to be completed, and the most efficient way to get that done within those first few hours on day 1.
Unfortunately, There was a lost opportunity to kick start employee engagement.
An Alternate Agenda for Those First Four Hours
As my career developed in learning and development, I reflected a lot about how that morning could have been redesigned. Given the technology that was available at the time, the organization may have been able to effectively facilitate the employee onboarding experience with these steps:
The supervisor meets their new hire as they are entering the building. Perhaps stop at the cafeteria for a cup of coffee.
At the new hire's workstation, the new hire and supervisor have a more formal meeting discussing typical work day, week, etc. (According to a recent Gallup Poll, when the manager takes an active role in onboarding, employees are 3.4 times as likely to feel like their onboarding process was successful. Wow!)
A short team meeting is held. More than introductions, people share advice. "Come to me when you have a question about x." They also share what they enjoy about the culture and environment.
The new hire has an hour to get familiar with their workstation and review paperwork requirements, including explanations for why they are important.
A team member hosts lunch for the new hire, so questions can be addressed away from supervisor.
The mission critical paperwork would be completed in the afternoon and delivered before the end of the work day. Other activities, like selection of benefits, could be addressed closer to the moment of need, before the 60-day eligibility period was over.
Today's technology can make this process more elegant. New hires can sit down to their desk with their calendars prefilled with training opportunities, deadlines, and links to resources to help them make decisions like selecting benefits. A 30-day journey can presented so all the 'important stuff' can get done without it being overwhelming or get in the way of their jobs.
That's critical with the move towards hybrid and global teams. Making connections early with virtual employees makes engagement possible.
Moving Forward with the Onboarding Journey
Making the onboarding journey meaningful and impactful can be the difference between staying with or leaving a company. In August 2022, we explore ways to create a positive 30-day onboarding journey that creates longevity in your workforce, with a lens focused on maximizing the virtual experience for your hybrid team. (And we'll provide a visual framework for you to use as a guide!) Human Resources experts and experienced new-hire facilitators have contributed to our monthly podcast, webinar, and blog schedule.
Would you like to learn more about how your organization can maximize new hire engagement in the hybrid workplace? InSync Training's new Trends in Virtual Training - Expert Seminar Series is just the workshop for you! Getting Virtual Onboarding Right - Maximizing New Hire Engagement in the Hybrid Workplace explores how to design a virtual onboarding program, how to connect remote new hires to the rest of the organization, and how to make the first 30 days on the job positive, memorable, and energizing.
You can choose from 12 of our trending workshop topics for up to 12 people in your organization. Purchase 5 workshops and the 6th workshop is free! Click on the image below to learn more.