What's In A Name?
The new hire experience often gets a bad reputation for being boring and focused on paperwork. That 'boring' stuff is important, but it's time for a rebranding - and to make a distinction between 'orientation' and 'onboarding.'
Before we dig into our organization's onboarding and its effectiveness, especially with remote and hybrid employees, we need to understand that there is a difference between orientation and onboarding. Often, these terms are used interchangeably, when in reality, they serve (or should serve) very different purposes. If we are clear about the distinction, we can truly increase employee engagement.
Although both orientation and onboarding typically refer to a new hire's experience from the moment they have accepted the offer through the first days on the job, orientation has a definitive short-term start and end finish, while onboarding is an experience that takes place over time, often the first full year.
If you consider the purpose of each experience, you will see that they are distinct from each other.
Orientation
Orientation covers information that often only needs to be delivered one time to the new employee.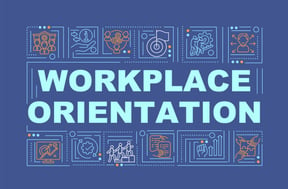 Think of all of that HR paperwork that has to be filled out, signed and submitted. Sapling HR reports new employees are typically assigned 41 administrative tasks during this time. (41!) We've all gone through that labor-intensive and often confusing process. But once it's done, it's done.
We need to thoughtfully consider how to make this process less arduous for everyone. Especially for hybrid and remote employees, this 'paperwork' process needs to be simplified and very self-directed. A self-paced tutorial on the paperwork, allowing the employee to pause and restart on their own and with a comprehensive checklist and active links make this process more seamless and manageable. Adding the requirements to a learning path in your LMS can track deadlines and completion.
Onboarding
I like to say that onboarding covers 3 important C's: culture, context and credibility. These all take time to develop at a deep level that sets the new hire up for long-term success and productivity.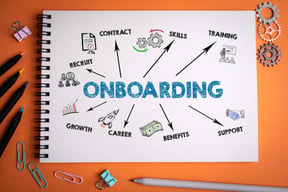 Culture addresses the nuances of the organization and team that the employee has joined. This includes organizational values, team norms, traditions, vision and revenue goals, to name a few.
Context helps a new hire understand the product or service that is being sold or delivered and their specific role in that process. Some call this "technical" onboarding.
Finally, it is important to establish credibility in the organization, and a supervisor plays an important role in this. As a part of the onboarding schedule, the new hire should be making important and strategic social connections with key stakeholders related to their role. Supervisors understand these relationships already and act as a guide to formalizing a schedule that includes

these meetings.
By the end of the first month, a quick-win goal for the new hire should be established to build credibility and create self-efficacy for the employee in their new role.
Designing an effective and engaging onboarding experience can be a tall task for a team to create, and this is where implementing a blended learning campaign can set everyone up for success.
Designing The Experience
Determining what needs to be delivered in real-time, whether it is face-to-face or virtual, versus what can be delivered using a variety of learning modalities is key. Essential content can be delivered by video or audio, synchronous or asynchronous, virtual or in-person.
With so many learning tools at our disposal, both orientation and onboarding can be wildly successful, positively impacting employee engagement, productivity, and retention; ultimately helping the organization reach goals sooner.
Are you looking to improve your onboarding strategy? Read about our expert seminar workshop Getting Virtual Onboarding Right - Maximizing New Hire Engagement in the Hybrid Workplace, which explores how to design a virtual onboarding program, how to connect remote new hires to the rest of the organization, and how to make the first 30 days on the job positive, memorable, and energizing.
Our Expert Seminar Series includes 12 trending workshop topics for up to 12 people in your organization. Purchase 5 workshops and the 6th workshop is free! Click on the image below to learn more.