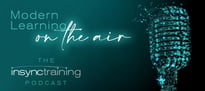 Find your voice and live an authentic life using the advice expert Ginny Palmieri shares on this episode of Modern Learning on the Air.
Discover the underlying importance of networking to your career, the value of your village, the process of building a trusted board of advisors, and how to effectively manage change in work and life.
Phylise Banner, host of Modern Learning on the Air, talks with Ginny and they go through the processes and approaches you can take to move your career in the right direction. Listen and learn:
What it means to live an authentic life
How to find your professional voice
The value of your village
How to network effectively and ways to build your board of advisors
Two steps to navigating change and planning your professional development
To listen to the podcast, click below.