Understanding your employees should be prioritized in the same way as understanding your customers.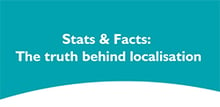 Your team helps your organization to grow in a positive way, which is why investing in localized training and learning programs is essential for maximizing employee engagement.
This infographic provides some stats and facts regarding localization and some compelling information to help your organization rethink its language strategy.