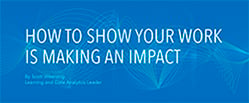 Evaluating learning through measurement and analytics begins by determining what questions we want to answer.

Uncover which questions you should be asking to begin to analyze and show how your work is making an impact.
Scott Weersing, Senior Impact Analyst, at Truist, provides some questions you should ask in order to get started with learning analytics, in this infographic.