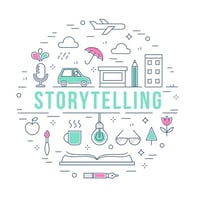 Storytelling has a long history as one of most fundamental communication methods. From paintings on cave walls to Egyptian hieroglyphs, to the first words ever written on papyrus with ink, people have been telling and listening to stories.
We love to HEAR stories, too! As children, we all begged our parents for "one more story!" And many of us remember the morals of those stories even now as adults.
We all enjoy a good story and revere a good storyteller. Whether it's an engrossing novel, an exciting movie, or a facilitator telling us about the horrible-no-good-rotten-awful experience they endured the very first time they tried to facilitate training in the virtual classroom.