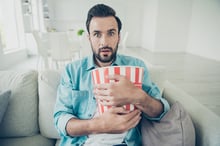 The modern classroom brings with it many tricks.
Technology failures, webinars-that-could've-been-a-job-aid, and lecture-heavy sessions with few opportunities to practice new skills can plague blends.
But, in spite of all the possible horrors, blended training can still treat learners to meaningful professional development.
To celebrate the spookiest day of the year, the InSync Team shares their ghoulishly good advice for those working and learning in cutting-edge training environments.
The foreboding ticking of a clock alarms global learning leaders. "This is a scary time of year if you support global clients. The time changes send chills up the spines of program managers. Use world clock on Time and Date or a similar site to make sure that your instructional team logs in at the appointed training start time." – Vickie


Learners hear a disembodied voice on the other end of the line. "In the virtual classroom, you ARE your voice. Facilitators, I urge you to speak slightly louder, slightly slower, and slightly more clearly than you imagine you need to. To amp up the energy STAND UP while you are facilitating." – Karin


A good jump scare can jump start a live online session. "When I produce a session, I always turn on my webcam and introduce myself to the facilitator before the session if they will be using their webcam during the session. Sometimes I look scary because it's so early in the morning and lots of people find it scary to turn on their webcam, but every facilitator comments on how appreciative they are at the opportunity to put a face to what is usually just a voice and that they are not the only person on webcam (which is often the case) even if it's only for a few minutes before the session." – Lynette


An eerie sense of exhaustion can settle over an event like a fog. "Whether you are a learner, a facilitator, or a producer, make sure to keep your energy up…but not with all of the leftover Halloween candy! Keep your energy up by allowing time for decompression, sleep, and proper nutrition. Power up the right way so you don't have a sugar crash mid-session!" – Brigit


Great instructional design crawls out of the depths. "Designers, invest time in writing three-part performance learning objectives. Three-part learning objectives will shorten your development time by half because they give you the clearest roadmap possible for developing your course. Read more about writing these types of objectives here. – Karin


To survive the twisty maze of a blend, do not go through it alone. "When learning something new, especially if the information is particularly complex or critical to my on-the-job success, I make a point to find a partner. We connect after each session of the program to debrief and discuss what we've learned. Spending even a few minutes teaching each other key points really helps me retain the content and clarifies where I have gaps in my understanding." – Katelind
Things that go bump in the night don't have to derail your training success. These simple but effective tips shine a light on the shadows lurking around your work.