What really goes on behind the scenes when you go live in a virtual classroom?
How do the facilitator and the producer manage to conduct the session without speaking over one another?
A critical part of any virtual training or blended learning course design is the facilitator guide. (You may call it running notes or a master.) The facilitator guide is a master reference document designed to help the facilitator and the producer to prepare for and deliver the program.
You can embed these in the notes section of your slide deck if you want, but it's vital that you choreograph the session in some way.
Compare it to a stage play where the producer handles the scenery and the technical aspects while the director (the facilitator) leads the actors. The facilitator guide is the script that they perform.
We've seen so many different types of facilitator guides that have worked well that we have concluded there is no right or wrong way to design your facilitator guide. As long as the directions are complete, clear and easy to follow, format really doesn't matter.
At InSync Training we use a three-column format where the first column shows the current slide; the second column shows what the facilitator needs to cover and when; and the third column shows what the producer does and when. Where possible, the facilitator and producer instructions line up within the columns to indicate WHEN instructions should be carried out.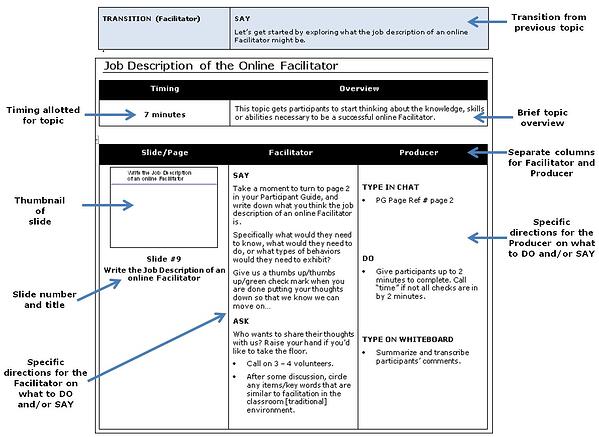 We include all of the facilitation materials for each of the sessions in the program, including:
Checklists of necessary materials and resources (slides, web page addresses, etc.)

Presentation scripts and key points.

Instructions for managing time and discussions.

Producer guidelines for supporting the facilitator.
It is important to note that the facilitator guide assumes that both the facilitator and the producer are technically proficient with the virtual classroom delivery platform. The guide excludes technical instructions for executing activities in the delivery platform.
It's also important to note that the suggestions in the producer's column are intended to serve as a guideline. The producer should feel free to adjust the suggestions (such as use of a particular tool) to maintain attention or emphasize the facilitator's points.
Interested in learning more about designing for the virtual classroom (including facilitator guides)? Check out our Virtual Classroom Design Mastery Series certificate course and find out how you can earn your virtual classroom instructional designer badge.