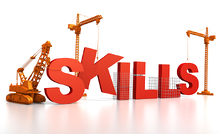 This morning I was catching up on over due reading. In the October 2013 issue of ATD T&D Magazine I read a short article that struck me concerning a workforce development effort in Kentucky. (Bridging the Gap Between Education and Enterprise.)
The sentence which couldn't help but draw me in was:
The Kentucky Work Ready Communities program boosts high school graduation rates while simultaneously developing the state's workforce.
Higher graduation rates and a developing work force? What's the special sauce that helps both to occur at the same time?
To me, the key to the success of this program is providing relevance. Students across the United States are being taught concepts that (in theory) help them to score well on standardized tests. While I am in full support of ensuring that the basics in 'reading, writing, and 'rithmatic' are taught to all, the idea that standardized curricula being the only 'important' course of study implies that all students will go on to 'standard' jobs and will be hired based on those standardized knowledge sets.
What Kentucky is doing, in addition to the basics, is engaging the local business community to provide training for real jobs. In order to help students become 'work ready', the curriculum includes soft skills development (I assume skills like how to interact with peers and how to plan a project) and digital literacy (probably spreadsheet and word processing basics that I have yet to master). By bringing corporate standards into the classroom, this business/school partnership is helping to establish relevance not just with the business skills, but also showing how 'core' skills are integrated into the workforce.
Also, key skills are being taught when the 'job' of students is to learn - training isn't something that is fit in between lunch and your 3pm meeting. If students can see relevance and personal application, they have the time to practice and apply. Learning is their job.
I am also encouraged that this is a model that doesn't insist that an expensive time and money investment in college is the only path to workplace fulfillment and success.
Bravo, Kentucky.