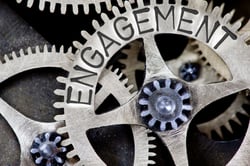 How do we engage the modern learner? This loaded question generates answers ranging from design, delivery, implementation, learning environment consideration. Those are all legitimate answers! Each aspect of the modern learning experience deserve consideration, if we want to get modern learners excited about the prospect of professional development.
Obviously, we want to incorporate the most impactful elements into our training programs. In thinking about the evolution of learning, and how humans generally learn, two factors stand out: collaboration and community.
Prong 1: Collaboration
Collaboration is critical for all of us, not just in learning. We collaborate on the job, at home, and in our social groups. If we teach people how to collaborate in the learning process, they're going to be better at their job regardless of the topic we are trying to teach. Collaboration is kind of an ambiguous topic. It's easy to get stuck in the weeds, asking questions like, "Is writing on a virtual classroom whiteboard collaborative?" The yes or no answer depends on the situation.
But all learning experiences need to include some immersive collaborative experiences if there's a formal component to your training. We can all agree that we want collaboration, but it's hard to establish as a concept. We need to not just collaborate for its own sake. Having learners post on a discussion board to complete the task does not generate true collaboration. Rather, we need to design experiences that have clear outcomes within the training.
Set up rules for your collaboration and tell people when the formal collaboration is over. Trainers find this recommendation tricky, and it's understandable. Informal learning, the umbrella under which collaboration falls, is not our bread-and-butter yet. Try incorporating group activities in a formal training session and learning space. Don't create a formal class on collaboration, complete with 45 minutes of lecture; that won't foster the collaboration you hope to achieve. Instead, aim to create a well-designed collaboration in your formal program. For example, in the virtual classroom, utilize whiteboards or breakout rooms and have people learn how to collaborate by actually doing it.
Prong 2: Community
In our day-to-day lives, collaboration often blooms into community. We identify people who can help us achieve our goals, and from whom we learn important lessons and have social interaction. When we foster true collaboration in our training programs, we can create community among our learners.
InSync Training's President, Jennifer Hofmann, has identified three specific types of community:
Personal Learning Networks (PLNs)

–

This community includes peer groups, mentors, and industry experts. Individuals consult their PLNs when looking for best practices from trusted sources.
Community of Learners – A group of people new to a topic who are learning from one another. No one in the group has any expertise and everyone learns by making mistakes. Often this community dissolves at the end of a formal training program.
Community of Practice – Usually grows from a community of learners. People turn to each other to build expertise and help each other with problems. They can become mentors to another community of learners, creating a cyclical relationship between communities of learners and communities of practice.
Jane Bozarth often preaches, "You can't force people to be social!" The same rings true for community. As learning professionals, we can hope to grow different learning communities in our programs, but we can't guarantee the end result. Instead, we can ensure that the circumstances and learning environments encourage learners to feel comfortable creating communities within that space.
Don't make engaging learners through collaboration and community more complicated than you need to. Our team of experts advises a practical approach: start by designing and facilitating training that would engage you.