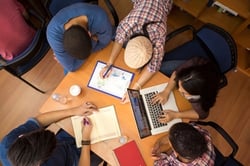 Virtual classroom platforms now include a plethora of tools meant to encourage learner participation. We have whiteboards, breakout rooms, polls, text-based chat. Including them appropriately in our programs positively impacts our modern learners' experiences.
One modern learning challenge we face though, is the type of engagement these tools generate: is it interaction or collaboration?
Today we sort through the confusion and define collaboration and interaction, and clarify their relationship with virtual learning events.
Debunking an Engagement Myth
When InSync Training designs virtual classroom events, we follow our rule, "Ask learners to do something every three to five minutes." This approach, when used correctly, generates interaction. Learners must put fingers on keyboard to contribute something to the event: contribute an answer in chat, respond to a poll question, put a green mark next to their name if something applies to them.
Many people believe, though, that running a poll every three minutes like clockwork results in learner engagement. Not true – anyone can press a button, but that doesn't mean they're engaged.
Defining Interaction
We talk a lot about boosting interaction in the virtual classroom. Interaction provides learners with the opportunity to communicate during the event amongst themselves and with the facilitators, often through technology. We can use chat, emoticons, polls, whiteboards, breakout rooms, application sharing, and web browsing.
Interaction keeps our programs moving. While it motivates our learners to stay awake, it doesn't mean they're learning. Including interaction is important, but isn't sufficient to generate deep learning.
Creating Collaboration
In training, we want genuine collaboration. If we make the effort to bring people together, we want them to learn from one another.
Learning happens during collaboration. It allows our learners to build on baseline information that they may have gotten through course content, like readings or videos. Learners get to practice through collaborating. It gets them to higher-order thinking, like problem solving.
Are You Hosting a Webinar or Virtual Training?
How do you know if the online learning event encourages true learning?
Ask yourself, "If a learner watches a recording of the session, will they have the same experience as they would if they attended the session live?"
If you answer, "Yes," you're presenting a webinar. It may be a super interactive webinar with meaningful content that captures learner attention, but it's not a full-blown training event.
If you answer, "No, learners won't get the same impact from a recording of this session," then you have created virtual classroom training. For example, when you design lessons using Adobe Connect, for example, and put learners in breakout rooms, then they interact and learn from each other. This design creates collaboration similar to what we do in the face-to-face classroom. In these situations, recordings become less useful, as you've created a true training event that impacts on-the-job performance.
In my next blog, I'll explore the different types of interaction and collaboration, and ways to use each type.
Additional Resources