In the past few years, the term "brain-science" has been used to introduce some new and improved approaches to instructional design and delivery In many instructional deliveries, experienced facilitators will strive to set up some ground rules for interaction during the session.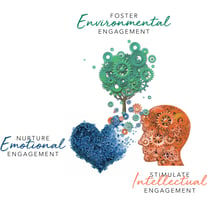 Part of the ground rules involve creating a psychologically safe environment where learners feel free to ask questions without judgment or ridicule from their peers.
Why? Well, it turns out it has to do with fear. If a learner is afraid of appearing ignorant by asking a question, that fear will not only prevent them from asking the question, but also will, in fact, replace a great deal of the cognitive processes involved in learning. Even if we aren't aware of why setting ground rules before the virtual training begins is important, we know that doing so typically produces a better level of interaction with learners.
Establishing psychological safety is a great example of brain science at work. Experienced facilitators may not know why it's a good thing to do, but they know it works and improves outcomes. The same can be said of the brain-science around learner engagement - we don't know why it's a good thing, but we are fairly certain it leads into better performance.
Engagement and the Learner
If we think about the learner in one of the diverse learning opportunities and environments available today, a recurring theme is the use of the term "engagement."
In the industry, learner engagement has developed into a shorthand term that loosely represents an amalgam of learner subject matter interest/expertise, attitude, motivation, and mastery. Moreover, it is often explicitly or implicitly assumed that an engaged learner will achieve better outcomes than one who is not engaged, and the challenge for learning and development professional has been re-cast into development of engaging instructional experiences. If the learning is engaging, the thinking goes, then the instruction will be a success.
The InQuire Engagement Framework

™
InSync Training began research in virtual learning experience in 2005, well before the virtual classroom became ubiquitous in learning and development. Most recently, InSync developed and began validating learner engagement and applied it to the virtual classroom learning environment to assess the effects of learner engagement on instructional outcomes. The findings of the research (still ongoing) can be summarized as "engaged learners achieve better outcomes" (a surprise to few, if any).
Based on the research, there are two key things to understand:
Learner engagement is highly dynamic.

Learner engagement factors (intellectual, emotional, and

environmental) moderate each other – that is, emotional engagement can have a direct effect on intellectual engagement, etc.
The framework is developed around these three factors of learner engagement – emotional, intellectual, and environmental – and includes methods to improve instructional design and delivery against organizational objectives.
Role of Designers, Facilitators, and Producers in the Virtual Classroom
If we think about learner engagement, the instructional designer can be thought of as creating and sustaining engagement throughout the experience. Everything begins with the design.
Key strategic decisions are made in the instructional design and development process that have far-reaching consequences in delivery – this is not a new concept, but the consequence of poorly made decisions early in the design process are amplified in the virtual classroom because of the lack of mitigating circumstances.
The instructional team of facilitator and producer work within the instructional experience to manage interaction between individual learners, lead the instructional experience for learners, promote engagement within the subject matter through discourse and interaction, and manage individual needs within the environment. Learner engagement is profoundly dynamic – it's easy to "lose" a learner if there's a misstep, intentional or not.
The challenge in a virtual training setting is that missteps are easier to make, and so, extensive care should be taken to ensure all learners are capable of interacting and provided an opportunity to engage with all elements of the learning environment (their peers, the facilitator, and the subject matter being discussed) and sustain the perceived relationship between the learner and the desired outcome of the instruction.
The InQuire Engagement Framework™ provides a variety of observable criteria and tactics within the instructional practice to sustain engagement and support a learner that may be lost. InSync Training's research was conducted by Dr. Charles Dye, Technical Director, Research and Evaluation at InSync Training.
Effective virtual training takes specialized design techniques, facilitation mastery, and strong production support. Somebody needs to be the expert in your organization – why not you? Click below to learn more!