The pandemic may have caused a massive shift in L&D, but for the better
Throughout the first year or so of the pandemic, The Learning Guild – often in conjunction with Megan Torrance of Torrance Learning – solicited information about how organizations, and specifically L&D departments and workers, were faring.
The Guild membership is comprised largely of instructional designers, trainers and facilitators, eLearning developers, and tech support staff like learning management systems (LMS) administrators; often people who wear more than one of these hats. The results they found were more positive than they anticipated in this crisis.
Silver Linings
Many respondents felt conditions created by the pandemic had provided the opportunity for them to get things in place or at least catch up in terms of technology use and implementation of new approaches, particularly in regard to reducing face-to-face training. Virtual Instructor-Led Training (VILT) proved for many the quickest way to pivot and keep training initiatives going despite facility closures and travel restrictions.
While also dealing with uncertainty and worry, respondents mentioned that they found the changes and challenges energizing.
One respondent said,
"The pandemic created business conditions that have helped L&D, and training overall. It has forced conversation to go beyond 'must be in classroom' to 'how do we do this effectively and safely?'"
Additionally, respondents felt that L&D's status and visibility were enhanced as organizations worked to respond to new conditions: L&D staff were recognized for having useful knowledge and skills. L&D strategy now came to the forefront.
Highlights from the Research:
The scale of the shift to virtual classroom was fast & massive – and is likely to stay. While only 4% of respondents said VILT comprised "most" of their offerings in 2019, that number leapt to nearly half in the early days of the pandemic; they anticipate little drop-off post-pandemic and expect that in the future well over half of training delivery will happen via virtual classroom.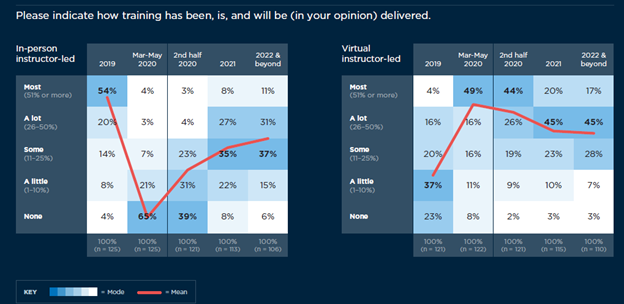 From https://www.learningguild.com/insights/252/covid-19-and-ld-present-and-future/
Surveys offered primarily multiple-choice format questions but respondents were always given the opportunity to offer additional comments. While they mentioned resistance from management or IT, and issues with culture and "Zoom fatigue", none said workers/learners did not like or accept the switch to VILT.


Nearly half of respondents in early 2021 said that the pandemic accelerated their ability to make plans for the future. Per report author Megan Torrance:
"This is an interesting result given how much we've seen that their plans for 2020 changed. It may be indicative of a confidence that a move to digital delivery platforms will be a more resilient and future-ready approach."
While the early days of the pandemic might best be described as requiring "emergency remote teaching", the current trend is to rethink and retool to make offerings more polished and performance-focused.
Effect on Technology Roadmaps
With the arrival of vaccines, we began looking at emergence from the pandemic, and asked what the past months had done to organizational technology roadmaps. People expanded things they were already doing – except face-to-face training – and held off on more adventuresome endeavors.
Plans for technology use held steady and often advanced, especially with technologies that were already in place. Newer approaches like virtual reality fell behind.
Companies that invest in delivery methods such as the virtual classroom, eLearning, and Video will now be the norm.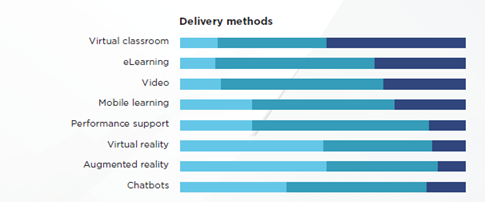 From https://www.learningguild.com/insights/269/research-review-evidence-based-perspectives-on-hot-ld-topics
Four Critical Success Factors
1. Get things in place
Organizations with something in place, no matter how small, found it easier to respond quickly to changing conditions. Even those using VILT in limited ways were able to expand that use quickly, without having to vet products, explain and sell the use to management, and learn to use new software.
So go ahead now and start playing with new approaches and add-ons to enhance your VILT work - you'll be better prepared for next time.
2. See the opportunity
As organizations shifted from the early days of emergency remote teaching to a more intentional approach, there was increased interest in improving design of VILT events and preparation of staff who would be facilitating the instruction. Shifting focus from the technology itself to the people who would be using it helped to make programs more effective.
3. Never waste a good crisis
Sometimes circumstance is our friend. Some felt the forced nature of the changes worked in their favor. One respondent, NC county school superintendent Rhonda Schuhler, said:
"The pandemic forced us to approach instruction differently (remote instruction only, followed by a hybrid approach of face-to-face and virtual simultaneously). I visited teachers early in the fall who were very apprehensive, and as the year progressed I witnessed an increase in confidence with many of them.

This type of seismic shift just doesn't happen in public education. Even the most traditionally-minded in our school community (teachers, parents, community leaders) recognized that technology was a necessity for us in reaching students."
4. Believe
Respondents who said they'd spent years trying to sell a new approach suddenly found they could get things done; for instance, many who participated in phone interviews or offered text comments said they would never have believed all their training would be delivered via digital means or that they could develop hundreds of assets like video clips in a matter of months.
Finally? Plan: Don't let the next COVID define your parameters.
What caused your organizations to scramble most in early 2020?
What lessons did you learn?
Refine plans and processes for alternate delivery of instruction should offices empty and facilities close, ensure adequate access to files and instructional or performance support materials, solve infrastructure problems, and establish priorities.
The complete research reports with pandemic-related content are available with a free Learning Guild membership:
Article: How will you meet COVID-19 challenges?
COVID-19 and L&D: Present and Future
Research Roundup: Leadership During Crisis
L&D Employment and Pay: 2020 Status

Effects of the Pandemic on Learning Technology Roadmaps
Research Review: Evidence-Based Perspectives on Hot L&D Topics