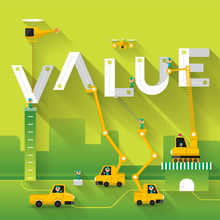 Here we are in 2022. In our experience, every training professional at every organization understands the need for global training solutions. And because no training content should stand alone, these modern learning rollouts should focus on hybrid and blended experiences.
In our work with individual practitioners and huge corporations, we recognize that standalone virtual or face-to-face training events no longer meet the needs of our learners or support the way businesses function today.
Success starts with acknowledging the need for comprehensive, perpetual, personalized digital blends. But without stakeholder buy-in and strategic implementation, a worldview mindset won't impact the bottom line or learner skill building.
Jennifer Hofmann has identified a winning formula for creating truly global learning. It requires designers and developers to consider the content, people, and connections. This model prioritizes flexibility, adaptability, and accommodating varying learner needs.
But how do we deliver value to both learners and stakeholders?
Deliver timely content to all sites and minimize the "U.S. first" perception. In global corporations, one country or region will inevitably receive a training rollout last. We often see the following progression: the United States, followed by Europe, Asia third, then the Middle East, and then finally South America joins the training party. Learners in those regions often become irritated. Why did they have to wait longer than their counterparts in other countries? We need to come up with an implementation plan that creates value for everyone and mitigates any frustrations or perceived regional favoritism.


Producing replicable experiences results in the creation of a common language across the global organization. Not every employee will speak English (or whichever language is primary in your company). But a common tongue should exist when it comes to what "good" looks like. Thoughtfully designed and implemented global blends can define the vernacular for all teams, regardless of where they operate. If employees in Europe participate in live online virtual sessions during their standard working hours, employees in China should also have access to live sessions during their business day. This moves beyond accommodation and towards equality. Yes, this places additional demands on planning and scheduling, but that comes with the territory of well-executed learning on a global scale.


Encouraging collaboration across regions. If we can teach in the local language, that's great. If we can include a virtual classroom producer that supports the local language, that's great. We should encourage collaboration across regions to add value beyond the initial training program. Invest in localization and translation where possible to increase learner engagement. Globalization should offer an opportunity, not a roadblock, to understanding why things may be different in different places and how that impacts the organization as a whole.
Beginning with the end in mind helps improve the likelihood of success for global training programs. Work to identify consistencies and differences across your target regions. Get your stakeholders involved in the process as early as possible. Prepare your virtual facilitation and production teams for the new experience. Keep class sizes reasonable and get to know your learners. Finally, create and use a strong communication and marketing plan for the blend. By promoting and clarifying the defined value of a training initiative, learners better understand what's in it for them from the beginning.
Does your existing team need training in how to effectively design, host/produce and facilitate virtual global programs? Perhaps you need to supplement your existing team to support surges, global time zones, or different languages? InSync Training can help. It all starts with identifying the gaps in your virtual training strategy. Click this link to schedule your FREE 30-minute custom Roadmapping Consultation with us today!