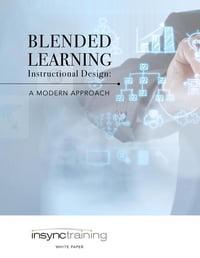 As instructional designers we are constantly being bombarded with new technologies and new trends. It's difficult to distinguish which are fads, and which are worthy of our time and resources. There also seems to be the perception that you can teach any content using any technology, which is hardly the case.
So what's the solution? From an instructional design perspective we should be looking to develop much more of a blended program rather than trying to fit all content into one convenient delivery modality. This whitepaper will provide some tips on how to plan and create a successful blended program.
To receive your complimentary copy of Blended Learning Instructional Design: A Modern Approach, written by Jennifer Hofmann, president of InSync Training and blended learning expert, just fill out the form to the right and click on the 'Submit' button.