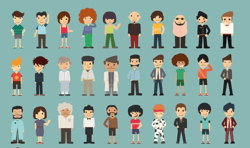 What do you know about the changing demographics of the United States? Pew Research Center found that, "Americans are more racially and ethnically diverse than in the past, and the U.S. is projected to be even more diverse in the coming decades." With the U.S. becoming more diverse, and with this shift in the population demographic, comes the need to diversify learning solutions.
As L&D practitioners, the demands of our job now require us to not just expect different faces in the room, but learners with different needs and abilities, both in person and online. The popularity of blended learning has increased exponentially over the years and is now being heralded as one of the most cost-effective ways to distribute information and impact behaviors across organizations.
How can you ensure your blended learning strategy meets these diversity demands?
1. Know your audience
What do you know about the culture and characteristics of your learners? Before creating a blended learning program, this is an important question to explore. Here are a few specific considerations to review and consider when designing blended learning programs.
Culture
Language is much more than letters as symbols. Language is tied to culture. Language is how one makes meaning and understands context, and if a learner is unfamiliar with the context, it becomes a barrier to learning. Think about idioms, for example. Idioms often don't translate well or are culturally-relevant only in specific settings.
Let's imagine that you are facilitating a group assignment. You mention that it's important for everyone in the small groups "to pitch in" to complete the project. Someone whose native language is other than American English would be quite confused and a barrier to learning could be created, impacting learning success.
Other characteristics of learners to consider are roles within organization (both from a hierarchy as well as shift work v. salaried), ability, ethnicity, gender, religion, and workplace culture.
Characteristics
You are already in the good habit of designing for engagement and collaboration, using a variety of exercises designed to involve all learners, regardless of whether it is face-to-face or in a virtual environment. Variety works. However, personal and cultural qualities are a major consideration for which activities you choose. Before we go any further, let's be clear that in order to understand any particular group of people, make sure you are not assuming and dig into to data about learning for specific populations.
There are some specific design practices that take into consideration populations such as introverts or English as a Second Language (ESL) learners, include allowing students to choose whether they would like to work in a small group, independently, or as a full class collaboration. Notice who appears to be more introverted and find a way for them to share their ideas; in the classroom, consider using notecards; virtually, consider the chat room or whiteboards. This also allows non-native speakers to take the time they need to craft a response they can offer with confidence.
As the designer, noticing how your learners react to the variety of activities is critical to engaging different learning styles and creating self-efficacy through involvement in the learning process.
2. Focus on Accessibility and Relatability
With all of the current statistics highlighting drastic changes to the demographic make-up of the country and the workforce, one constant is the need to keep accessibility at the fore of every training initiative. The learners who will engage with training are going to expect the look, feel and approach to reflect a diversity of styles and abilities. In order to be truly inclusive, familiarity with compliance standards and diversity in imagery are two keys to meeting this need.
Online Accessibility Standards
The increasing popularity of blended learning formats highlights one critical component that can easily be forgotten: the need to ensure that any online content meets accessibility standards. Consider a U.S. Department of Commerce report from 2013 highlighting the stark difference in computer access for those with disabilities. This tells us that to reach all users we need to consider things like broadband speed requirements and video components.
At least one member of the project team should be familiar with the 508 Compliance and WCAG standards to ensure that all users will have equal opportunity to the modality. When brainstorming activities to engage learners, think about all of the senses and consider auditory alternatives to visual activities, placement of items on the screen and the number of clicks necessary to move through the program.
Relatability
Skilled L&D professionals know that understanding participants' familiarity with your content is a critical component to a successful program. Pop culture references and examples that call on undisputed truths can act as a means of demonstrating a variety of points from the simplest to the most complex and cementing critical elements for the learner. This can also be key when determining the visuals that will displayed as part of the program.
Consider the recent Dove Ad controversy as just one of the many altogether too frequent examples of what happens when there is a lack of diverse insight. A less well-known example is this Pool Safety poster from a campaign by the Red Cross last year.
When putting together the materials for your blended learning programs, you want to be thoughtful about representing a diverse slate of individuals to truly be inclusive. This will ensure a greater chance of your learners being more receptive if they feel they are reflected in the training.