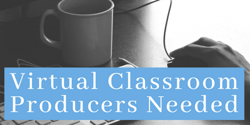 Are you interested in a work from home opportunity? Are you computer literate and a detail-oriented person? Do you have experience supporting Webex Training Center, Adobe Connect, Zoom, or any other virtual classroom platform? InSync Training wants to learn more about you!
We are seeking contractors to join our dynamic Virtual Classroom Production Team.
Our Producers ensure flawless virtual learning events by providing instructional and technical support to Facilitators during live learning events, training sessions, and meetings.
Applicants must be self-motivated and have access to an appropriate workspace, as this position is virtual. This is a flexible, part-time only contract position.
Ideal candidates are:
Able to learn and manage new technologies efficiently and quickly
Proficient in MS Office software
Strong verbal and written communicators in English
Adaptable to changing needs of clients and are capable of working with professionals in various fields
Exceptionally detailed-oriented and organized
Available to support sessions occurring during European and/or East Coast United States time zones.
Do you speak a second language? Bilingual abilities are a plus (French, Italian, German, Spanish, or other), but aren't necessary to apply.
We train qualified candidates in our comprehensive and immersive training programs.
Ready to join our amazing team of experts? Visit https://info.insynctraining.com/opportunities