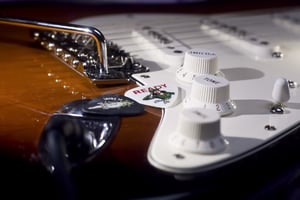 Not only do current global circumstances demand training go digital, but also, over the last few years, industry experts have promoted the value of virtual blended learning through hybrid training. This virtual model offers a number of critical advantages, like:
Adaptability of programs (designers can update individual content pieces as information changes)

Personalization of learning experiences (based on the needs of specific learner groups, they can engage in certain blends – or segments of programs)

Application of knowledge (learners can apply new information within the context of work between live sessions)

Practicality of design (designers can match each learning objective to an authentic treatment, and order the components in a logical progression)
How can you improve your digital blend so it effectively achieves its goals, supports learners' needs, and instills confidence in its efficacy? Start with solid design and purposeful communication.
The Characteristics of Excellent Virtual Blended Learning Instructional Design
When the InSync team works with a client to transition content from the traditional face-to-face classroom environment into a digital learning journey, the instructional design process relies on nine distinct characteristics:
The final product is an experience, not an event. While we certainly incorporate live sessions into our blends where appropriate, we operate with the understanding that learning doesn't end at the conclusion of a session. This perspective changes how we create every single resource, since we focus on how the learner will experience the entire journey.

Learners engage in inquiry-based learning. Powerful learning that sticks provides answers to important questions. When we create our blends, we reposition learning objectives into learner-facing guiding questions. Not only does this clarify what information and skills they will gain during the program, but it also encourages further inquiry-based exploration.

Critical thinking takes center stage. Virtual learning gets a bad rap, thanks to years of unengaging webinars and point-and-click eLearning modules. But, when designed well, learners can (and do!) think critically throughout the entire blend.

Participants use real work to apply the content. New knowledge sticks when it's applied. Many digital blends span days or weeks, as opposed to back-to-back hours in a classroom setting. This offers an instructional design advantage! We create opportunities between sessions or blend components for learners to apply new knowledge to their real-world work (or even a simulated version of it), bring it back to live events, and debrief the experience for even more reinforcement.

Every learner shows their work. In addition to working through new skills in authentic work and learning environments, every blend should include peer and facilitator feedback. In all of our certificate programs, for example, learners create deliverables using the processes modeled in live sessions and receive evaluation of the work product. In our experience, planning for constructive criticism and helpful guidance ensures that every learner connects the information to their personal work.

Traditional design best practices still matter. Don't neglect the fundamentals! Each program requires needs analysis, development, implementation, and evaluation. In the virtual blend, instructional design matters even more than in the face-to-face environment, and using standard, time-tested processes ensures that the design meets the mark.

Microlearning resources generate macro blends. Many instructional designers newly tasked with creating virtual blends find the process overwhelming. For those concerned about connecting all the dots, we suggest first looking at the resources that learners will have access to during the program. Videos, infographics, job aids – they can not only act as follow-up resources, but also teaching tools. Combining microlearning content into a blend results in a macrolearning ecosystem.

Learners receive access to tools and support resources. In the same way that combined microlearning helps the virtual blend design process, it also empowers learners. Because they have access to tools during the formal learning process, they feel more comfortable using them in informal moments of need back on the job. When designing a blend, we conscientiously consider where tools will live, how learners will access them, and what instruction learners will need to ensure they understand the resources available to them.
Don't Forget to Communicate!
Yes, blends have many moving parts. Yes, this can intimidate or confuse learners. Communication can ensure learners know what's going on, what's next, what's expected, and what they'll learn. We ensure clear communication though:
Purposeful language – Every element of a blend has value. Learners, though, often skip content labeled as pre-work and homework in favor of investing their time in live content. By revising the way we speak about the blend, we can undermine these biases and preconceived notions. At InSync, we switched to labeling components of a blend using nine specific terms:

Session

Lesson

Practice activity

Assessment

Resource

Content block

Blended learning

Perpetual learning

Learning campaign

Campaign Maps – Resist the urge to send learners an email that digs into the minutia of a blend and includes text like "Step 1, step 2, step 3...step 42." A visual can more quickly and succinctly clarify the layout of a blend by highlighting check points, key resources, and live lessons. A map, like the one below, defines what learners will do at each stage of the blend (read, reflect & share, attend, etc), the overarching topics, and the time investment required. Basically, the campaign map explains the entire learning journey. Not only do learners love these maps, but so do managers and stakeholders!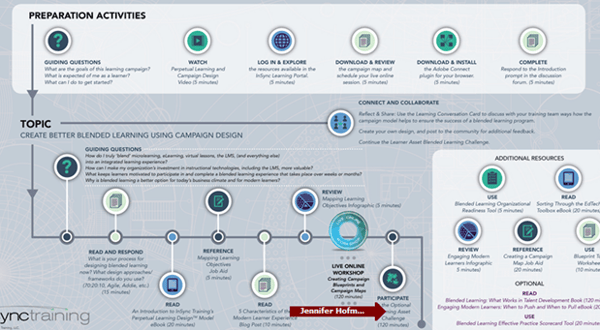 One Last Thing...
To really kick blended learning off with a bang, we recommend that you start a blend with a live virtual session. Doing so helps gain learner buy-in before they are required to work independently. It's tough to get people motivated if they have to start by doing self-paced work in an unfamiliar digital environment. A simple 30-minute live session like Learn How to Engage Online can introduce content, the technology, and put learners at ease!
Ready to Maximize audience engagement and merge the concepts of blended learning and hybrid learning? Our Hybrid Virtual Training course will help your become an expert in virtual training for today's global blended work environment. Tap the image below to learn more!