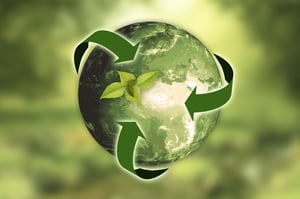 Happy Earth Day!
Today marks the 50th Earth Day, providing an opportunity to consider environmental issues and ways in which individuals can contribute to a cleaner world.
In recent years, organizations have begun to seriously consider the impact their production processes have on the environment and on natural resource reserves. Traditionally, operations and sustainability teams focus on earth-friendly corporate initiatives. But, learning & development can contribute meaningfully, too!
Earth Day's Learning Tradition
Leveraging the training function to decrease waste and the corporate carbon footprint speaks to the history of Earth Day. In fact, Parade Magazine shares three learning-centric facts that reinforce the importance of learning to today's celebration:
"April 22 was chosen as the date for Earth Day because it fell between Spring Break and final exams, and organizers wanted to maximize student involvement."
Earth Day's founder Gaylord Nelson framed Earth Day as a "national teach-in on the environment."
Education about environmental issues has remained a focal point of Earth Day for its decades-long history.
And while Earth Day certainly encourages education, it ultimately asks participants to take action. So how can training embrace the spirit of action-oriented sustainability work? Start with the concept of Circular Advantage!
What is Circular Advantage?
Those with experience in operations have likely heard the term "circular supply chain." A Circular Supply Chain attempts to minimize or entirely eliminate waste by "encouraging manufacturers and sellers of products to take discarded materials and remake them for resale."
Circular Supply Chains represent one of a few options businesses can pursue to become circular. Accenture highlights other options, including:
Resource Recovery
Product Life Extension
Sharing Platforms
Product as a Service
When companies embrace one or more of these models, they can create a Circular Advantage, an "innovat[ion] of both resource efficiency and customer value—delivering at the heart of a company's strategy, technology and operations."
The Virtual Learning Connection
Virtual blended learning programs can help organizations eliminate waste and deliver their strategic value. In thinking about how training can contribute to increased Circular Advantage, a few ideas come to mind:
Lowering the environmental impact incurred by team travel to onsite training sessions.
Converting printable resources like slide decks and job aids into digital microlearning tools that learners can easily access and store on their devices.
Incorporating resources on sustainability initiatives, like office recycling programs, into the LMS where relevant.
Providing personalized, contextual learning for employees in the departments implementing circular supply chains or product life extension projects.
Fundamentally, training should adapt to the state of the business, address overarching organizational goals, and equip learners with the skills they need to do their jobs well. As our companies become "greener," learning & performance can not only become more sustainable as a department, but also provide critical resources and instruction about new initiatives to employees.