Instructional Designers and Virtual Classroom Facilitators: Do You Know How to Engage Online?
In today's digital age, the landscape of learning and development has shifted dramatically. Virtual and hybrid learning environments have become the norm rather than the exception. But how can learning and development professionals ensure that virtual learning is as effective and engaging as traditional classroom learning? Let's explore how virtual facilitators and course creators can make learning engaging and long-lasting in virtual and hybrid environments.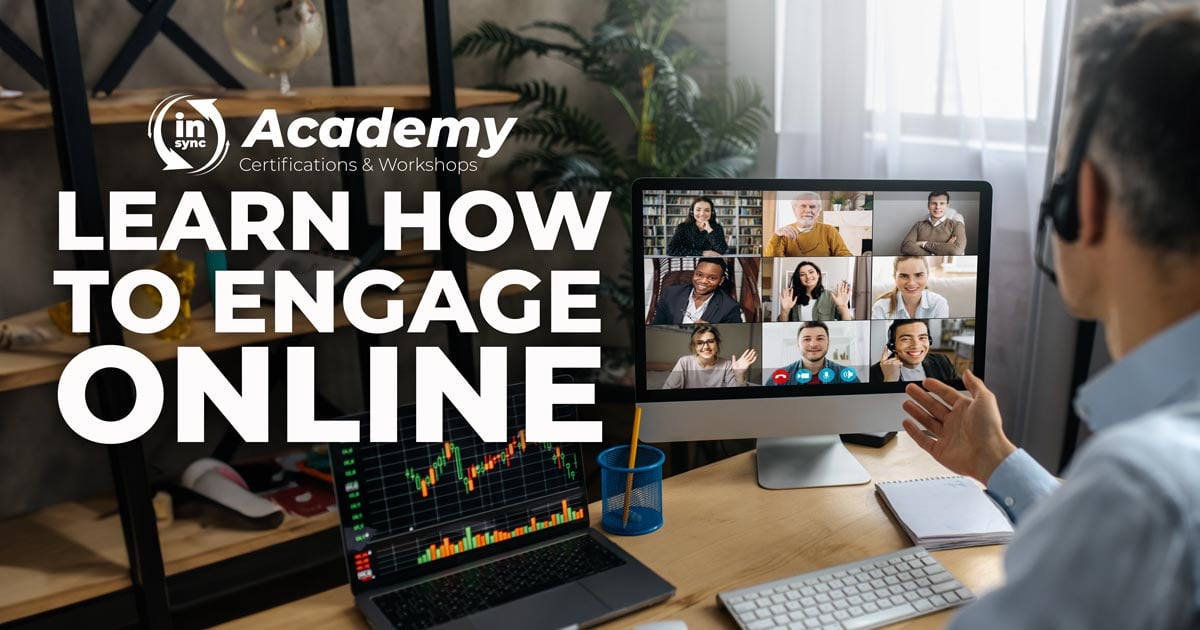 The Challenge of Engagement in Virtual and Hybrid Learning
One of the most significant challenges in virtual training is maintaining learner engagement. Without the physical presence of a teacher and classmates, learners may feel isolated or disengaged in virtual sessions. But fear not! There are strategies and techniques available to facilitate meaningful engagement in online environments.
A vital step is to fully engage in the virtual learning process. It's important to take part in live, online courses that use basic tools for collaboration. This direct experience lets you understand which techniques are effective and which aren't.
Try to find a class that is more than a webinar. It's important to ensure these courses offer more than webinars do by including interactive small group work in breakout rooms, individual work, and group discussions. This way, you can experience what you want to provide for your learners.
Three Dimensions of Learner Engagement
The InQuire Engagement Framework™ developed by InSync Training outlines three dimensions of learner engagement—emotional, intellectual, and environmental. Understanding these dimensions is crucial for creating a learning environment that fosters active participation and sustainable learning in virtual and hybrid learning models.
Emotional Engagement is about connecting with learners on an emotional level. You can achieve emotional engagement by building a positive learning atmosphere, making the content relevant to the learners' experiences, and allowing the learners to interact and know each other more authentically than just as names on the screen.

Intellectual Engagement involves stimulating learners' curiosity and critical thinking abilities. You can accomplish it by presenting challenging tasks, asking thought-provoking questions, and providing opportunities for learners to apply what they've learned. This approach enhances knowledge retention and increases the chances of applying new skills to the job.

Environmental Engagement refers to the learning environment itself. A user-friendly platform can boost learner engagement by making content easier to access and interact with. You must orient the learners to the virtual platform so they can effectively use the tools to engage in the learning.
In addition, recognizing and promoting psychological safety within the learning environment is pivotal. As a designer, facilitator, or student, acknowledging the roles and responsibilities of virtual classroom learners is key so they are comfortable interacting with the technology and the people in the room. They play a significant role in fostering engagement and program success.
Making Learning Active and Sustainable
But how can we ensure that the learning content is not only engaging but also sustainable? The key is to create active learning experiences. Active learning involves learners in the learning process, encouraging them to think critically, solve problems, and apply their knowledge. This approach not only makes learning more engaging but also helps learners retain information longer, making the learning experience more sustainable and ensuring no learner is left behind.
3 Ways to Easily Elevate Engagement This Week
Whether your job is designing learning content or facilitating virtual learning, you are part of the solution to making virtual learning engaging. So get out of the traditional classroom and webinar boxes, and figure out what works for YOU online as a learner. Here are some steps to do start doing that:
Participate in a virtual learning program that is truly training yet more than a webinar. It should use the virtual classroom software collaboration tools to do more than create interaction, rather facilitating collaboration and engagement. Ask ahead if the experience is a lecture or a collaborative training session that leads to solutions. Having the latter allows you to truly collaborate with others to solve problems or create solutions.

Brainstorm the roles and duties of online learners and design a plan to help learners adopt these roles. With your team, develop recommendations and guidelines for successful virtual learners.

Reflect on these questions: How did the workshop foster a sense of community? Was my real-time attendance at the virtual event significant? Could the experience have been improved for me as a learner? Afterward, formulate a strategic plan to guarantee that your training programs include and benefit every participant.
Once you figure out how to create the best learning environment for yourself, you can transfer what you learned to making your programs great.
Elevate Your Virtual Learning: Join our Free "Learn How to Engage Online" Workshop Today
Do you want to learn more about increasing learner engagement and making learning content active and sustainable? There's one more thing you can do right now.
We invite you to enroll in our workshop, Learn How to Engage Online. This workshop will equip you with the skills and knowledge you need to effectively engage learners in virtual and hybrid learning environments. Don't miss this opportunity to enhance your skills and transform your approach to online learning. Register for Learn How to Engage Online and see how you can easily elevate learner engagement.
Hybrid virtual learning doesn't need to be a solitary or passive experience. With proper strategies and tools, online teachers and course designers can make learning engaging, active, and sustainable for everyone.