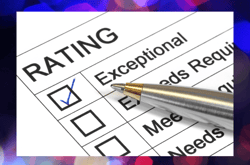 If you are a good virtual facilitator (and after the year we have all had, I bet you are!), you have quite a few enviable skills! You've mastered the basics of how to teach virtually and have mastered your virtual classroom platform. (Webex® Training Center, Adobe® Connect™, Zoom, MS Teams, etc.). You consider the principles of adult learning throughout every delivery. You manage the entire experience. And so much more!
As many organizations shift to "Virtual First" as a training strategy, "good" isn't "good enough" anymore. Facilitators need to work towards becoming exceptional at their craft. This means connecting content with people through technology. But technology is still a tool. Learning in the virtual classroom is about making connections between people. If that wasn't important, all content could be self-paced.
We are beyond the era of the webinar. Virtual classrooms need to become real classrooms - spaces where individuals are fully engaged and expect to learn. We need to set our expectations higher, and demand that virtual learning experiences are instructionally sound options and provide the opportunity for learning transfer, application practice, and true collaboration.
Exceptional facilitators engage learners beyond just interacting with the virtual classroom environment. Engagement is more than 'point and click' and using the tools. It's about connecting the people to content, and to each other. Next-level facilitators strive to engage with learners in three ways: environmentally, intellectually, and emotionally.
In our accredited Virtual Classroom Facilitation Mastery Series we explore each dimension in depth. For now, here are some examples to get you excited about what you will learn! (By the way, we are trying to get you EMOTIONALLY engaged in the content by stimulating your curiosity and desire to learn more!)
One of the most challenging situations a facilitator needs to handle in the virtual environment is what we call a "multimode" or "multimethod" class. This occurs when the audience is hybrid: some learners are working individually from their desks; others are sharing a conference room and watching a projected version of the virtual classroom; and possibly still others are working from a mobile device. Another potential complication could be that the facilitator and some learners are sharing a physical room, while others are attending the training in the various ways I just mentioned. It's very easy to disengage learners in these situations – the tendency is to focus on just one group. To avoid this, the facilitator needs to identify how all the learners are participating and adapt exercises and interactions so that all learners are successful. The facilitator can anticipate the audience demographics and prepare options for each group. Dependence on the producer as an instructional partner is critical.
One way to intellectually engage learners using virtual classroom tools is by asking questions. In order to ensure that we get responses to questions, most facilitators rely on polls to ask them. Unfortunately, we don't do a lot with that data that comes out of those polls. And when we don't use that data well, learners have stopped paying attention. They are pressing buttons just to ensure the class moves forward. (I worked with a client once that was very frustrated because people were logging on to the class, answering all the polls, and leaving the class without ever having joined the audio. These facilitators were using polls as the primary engagement technique – and nothing else. The learners didn't see the value in participating and were answering the polls just to get credit.) An advanced facilitator uses the responses to these polls to intellectually engage the learner – and is ready to adapt the content based on the responses from the polls. The polls shouldn't be an end point, they should be the beginning of the next conversation. Or an in depth debrief of the previous conversation. The poll results should move the conversation along, and the facilitator needs to adapt and evolve the conversation based on the results.
Emotional engagement is really about safety. All competent facilitators know to keep an eye on their learners, but are they really "seeing" the individuals? Facilitators can gauge whether or not people are actually listening using basic techniques, but how do we know they are actually learning? One way to ensure learners are emotionally engaged is to practice active and reflective listening. This is not as obvious as it might sound – the overabundance of webinars over the last 20 years have taught facilitators that the virtual classroom is about us talking, and not listening to learners. Of course, in order to listen, someone else may need to be saying something. The advanced facilitator ensures the learners are contributing to the class. This creates a sense of belonging and starts to foster community.
Are you ready to take your facilitation skills into the future and create truly modern virtual learning experiences? The Virtual Classroom Facilitation Mastery Series offers the logical next step in your personal professional development.
Based on research about how people learn, and designed using best practices, this program evolves your skillset to:
Go beyond "body language in the bandwidth" to really connect with your learners.

Form a place where participants can and want to learn.

Build community within the virtual classroom.

Foster learner curiosity by clarifying content relevance and applicability.
Click on the title of the course above to learn more!