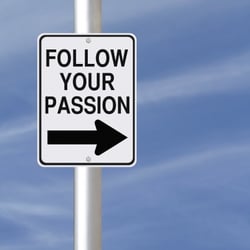 We chatted with one of our expert virtual learning producers about the journey that lead her to InSync and how her HR background translates to virtual learning. Each of our producers has their own unique story, and their own perspective to bring to the field of virtual classroom production. Our learners are so lucky to have dedicated producers and facilitators like Brigit!
American businessman, engineer, and philanthropist, Henry Samueli, once said: "Passion is what gives meaning to our lives. It's what allows us to achieve success beyond our wildest imagination. Try to find a career path that you have a passion for."
This couldn't be more apt for my path to producing at InSync. With an extensive background in HR and compensation, I worked face-to-face with a lot of people and discovered my passion for training.
After taking eight years off to be a stay-at-home mom, I was looking for my next move and kept coming back to my love of training. I wasn't sure how to make it fit into my busy life with four children, though. As luck would have it, I had a chance encounter at a party where I met InSync producer Jennifer James and I got goosebumps after hearing what she did for work. I kept thinking to myself, "This is exactly what I am looking for!"
I was immediately in love with the idea of virtual training. It seemed like the best of both worlds: a job that would let me set my own schedule, provide fulfillment, align with my passion for HR, and allow me to be home with my family. I kept in touch with Jennifer and joined the team when the timing was right for me and my family, and I've never looked back.
I love my job, the people I work with, and the flexible schedule that lets me work from anywhere. I feel that my job as a producer helps my whole being and helps me work towards fulfillment of my larger professional goals. It's an exciting adventure to discover the ways in which virtual learning both supports and mirrors traditional training experiences.
There are a lot of correlations between face-to-face and virtual training. Both provide opportunities for positive learning experiences, and when emotional, intellectual, and environmental best practices are introduced into virtual learning, it can make a difference in the way learners perform their daily jobs. I have found, though, that I need to be more prepared for a virtual session, especially in this new hybrid environment. I can't just smile and run out of the room to grab something when working virtually. It's especially important to be in a quiet space. I see it as the equivalent of putting everyone - no matter where they are attending the training event from, in the conference room for a face-to-face session.
I've learned many tips, tricks, and hybrid learning best practices during my tenure with InSync. Sharing my insight with my fellow producers, new team members, and InSync's learners not only grows my skills, but also improves the reputation of virtual learning events.
My job is equal parts challenging and rewarding, and I never thought I would find something that fits in so well with my professional goals, passion for the field, and my family life.
Virtual training is about more than showing up with slides, turning on the video, and hoping people learn. Effective virtual training takes specialized design techniques, facilitation mastery, and strong production support. Interested in becoming a Virtual Learning Expert®? Click here to learn more about how to become the Virtual Learning Expert® for your organization.