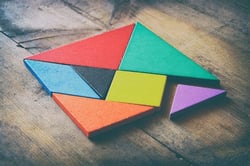 Virtually There Session Recap
Do you feel like you're missing something from your instructional design toolkit? That one resource, approach, or process that would create a more direct route from defined learning goals to proposed design solution?
Aftr 30 years in the industry, Phylise Banner stumbled across a solution that has revolutionized her work: Learning Environment Modeling Language.
She shared her discovery with her audience at the recent Virtually There session, Removing Communication Barriers in the Learning Design Process.