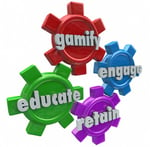 In order to help a company to thrive, there are a lot of elements that must work together. A strong workforce, a good product, a smart marketing strategy, good leadership - all of these factors need to fit together seamlessly to form a proper company machine. For these to come about, there is nothing more important than strategy.
A lot goes into a solid business strategy, and the most successful business leaders train for years to develop the kind of business acumen that produces long term results. As such, there are also a lot of factors that play into a successful business strategy - things like hiring, onboarding, sales, forecasting, marketing, and so on.
Right now however, we are going to focus on just one element, and that is training up a strong workforce -and more specifically, training through enterprise gamification.