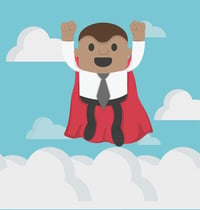 Virtually There Session Recap
Every day we tell stories, to ourselves, our learners, and our customers. Psychologists have determined that storytelling makes a difference in how people act. In fact, human behavior follows a predictable pattern: an event happens, that event sparks feelings, and from those feelings, we take action. Stories provide us with the opportunity to influence that cycle and drive behavior.
But how do we tell better stories that help us achieve better business results? Christine Miles, Chief Architect of Ci Squared, identified a customer hero story as our best option.
During her recent Virtually There session, Christine defined the "Art of the Nudge," key storytelling elements, and guided learners in writing their own customer hero story. Watch the entire replay for all her expert insight.