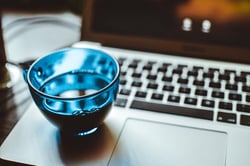 Everyday, thousands of virtual classroom sessions take place – meetings, webinars, comprehensive training programs. In fact, Microsoft Teams set a one-day record for their platform and hosted 2.7 billion meeting minutes in a single 24-hour period this year.
This trend does not surprise us - the world, and our classrooms, have changed. And while instructional design and facilitation approaches need updating, learners also have to adapt to this learning environment. Participation, collaboration, interaction, and contribution look different in the virtual classroom, and there are virtual classroom rules that should be followed.
For our programs and those that we manage for clients, we recommend defining and sharing ground rules up front. Not only does it help learners to better understand expectations, but also wards off underwhelming training that may neglect the learners' needs.
Generally, learners want to do a good job. In our experience, the following five rules help learners learn effectively online:
1. Minimize distractions.
Ask learners to consider their training area and eliminate any possible interruptions. Independent of your virtual classroom setup, the best practices include:
logging out of email,
silencing the cell phone (and desk phone if applicable),
and going inactive in instant messaging applications like Slack and Skype.
If the learners have coworkers or family in the immediate space, ask them to place a "do not disturb" sign on their office door.
2. Participation
Most learners experience the virtual classroom for the first time in a webinar-format, which involves very little contribution. In true virtual classroom training or collaboration events, learners need to come ready to participate. Facilitators should prepare learners at the outset that they will call on learners by name and ask them to give feedback and answers verbally.
3. Encourage interaction with the "hand raise"
Most virtual classroom platforms have a "hand raise" interaction tool option. Without express permission to use this tool, though, learners may keep urgent questions or feedback to themselves. Facilitators or session producers need to not only show learners where to find the hand raise option, but also encourage its usage throughout the session by responding to inquiries that come through.
4. Have patience.
Learners who ask questions in face-to-face trainings expect immediate answers. Sometimes this does not happen in the virtual classroom, especially if learners submit questions via the chat feature. feature. Let learners know that the instructional team will monitor chat and respond via text or verbal response when they can. This rule provides another opportunity to direct learners to use the hand raise tool if they have an urgent question or concern.
5. Ask to be kept in the loop.
Even engaged learners invested in the training process may need to step away from their desks to use the restroom or grab a cup of coffee or even leave the training due to an unexpected emergency. Remind learners to use the coffee cup emoticon (if available) or to private chat the facilitator to let them know if they take a break. Keeping lines of communication open help ensure that the virtual session goes smoothly for everyone.
Conclusion
Remember: learners have an innate understanding of the implied and expressed rules of engagement in the traditional learning environment. Spend time articulating how you expect learners to participate in the virtual classroom, and what are the virtual classroom rules you expect to be followed. It sets them - and your live online learning events - up for success!
Looking for more hands-on guidance? Register for an upcoming complimentary Learn How to Learn Online workshop to discover how to become an effective virtual classroom learner.