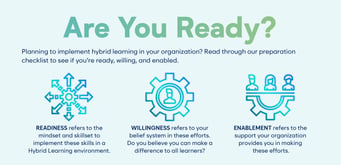 The majority of organizations have moved from face-to-face classroom to the virtual classroom. But - how do you know if your hybrid learners are really thriving? Are you truly Hybrid Ready, Willing and Enabled?
Read through our preparation checklist and download the infographic below to see if you're ready, willing, and enabled.
Your regular facilitator may be great in the physical classroom but may still be inexperienced in the live, online environment. No matter how long they have been teaching in the "regular" classroom, the virtual classroom is an entirely different setting, requiring a different set of skills.
Your virtual facilitators need to be ready to teach in an appropriate manner in the virtual classroom. You must make sure that your facilitators are ready, willing and enabled!
Ready
Your facilitators need to know how to teach in the virtual classroom - they need to know how the technology works, how the learners are going to interact and how they are going to manage it all. They also need to know how to engage learners to best maximize learning in the virtual classroom.
This also means that your facilitators must be given sufficient time to teach AND prepare to teach. Often, organizations schedule three or more two-hour learning sessions in a day, which in theory sounds very productive.
But the reality is that teaching online is a draining experience, more so than in physical classrooms because you have lost body language and visual cues. Your senses are heightened in this environment and you need to concentrate more. And you have to deal with the technology, the learners and the content - all at the same time!
Combine this with the time needed to prepare to teach (assessing pre-work, practicing delivering the next session, communication with learners, etc.), and you can see that just because the session is two hours long doesn't mean that's all the time that is necessary to teach that two hours of content!
Willing
Your facilitators must believe that delivering training in the virtual classroom is as effective as in a face-to-face classroom.
If they don't believe, then they will pass on that uneasy feeling to your learners in the live session. Live online learning sessions are not second-best to face-to-face training sessions - you should expect to offer training at an equal or greater level to learners.
Of course, not everything that you teach your learners can be converted to the virtual classroom - you should work under the premise of, "If I can test it online, I can teach it online."
Enabled
Your facilitators must receive proper support from your organization.
Does your team have access to the right technology to bring everything together? Have they had time to learn that technology and practiced teaching content in the virtual classroom? Are they fully prepared to facilitate online?
There are many different learning solutions available that can provide easy-to-use online training sessions that can simplify the learning process for both facilitators and learners. Intuitive user interfaces, built-in audio conferencing and streamlined procedures can ease the transition from teaching face-to-face to facilitating in the virtual classroom.
Interested in learning more about how to better engage your hybrid learners in the virtual classroom? Click on the icon below for more information on our Hybrid Virtual Training Certification - so you can assure no learner is left behind.