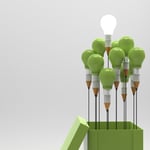 The modern learning landscape presents a unique set of challenges. Never before have learners had greater access to information, a greater drive to discover answers for themselves, or a greater number of demands on their time.
Formal training no longer provides the end-all-be-all solution for our organizations. While it has an important place in the instructional design line-up, it represents just one of many options we need to include in our blends.
By better understanding our audience, identifying a training solution, and transitioning to something new and innovative, we can improve the learning experience within our organizations.