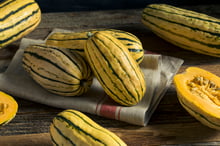 This weekend, I purchased something new at a local farmers market: delicata squash.
It came highly recommended as an easy winter squash to prepare, with a nice light taste.
As I was getting ready to cook it, I had a couple of quick questions. At what temperature should it bake, and for how long?